The moment you realize you signed with Charlotte.
Friendship with "GO CP3 Lockers In Shambles" Joke Over
"GO Parker Lockers in Shambles" is my new best friend
Thats why i grabbed drob instead cuz they always releasing PGs
Even Drob is borderline now though.
Penny is out for me.
Drob is prob gone as soon as we get a good C with RE/clamps.
Yeah D Rob is still my starting center, but that's my spot I'm looking to upgrade next.
Mmm he didn't even last that long as a starter for me.
Prefer PD KP.
D-Rob's still a top 2 center in the game with AD. I'll never get rid of him. He stops everyone on defense, grabs TONS of rebounds and does his job on offense.
He's always one of my fav centers and I do love him.
Just know I'll eventually feel the pain of no RE, and bronze clamps will prob be an issue soon. The cards on the AH are out of control. Gonna have speed boosting centers all over the place in no time.
Stacking my tokens for the 99 everything cards down the line.
Meh, TP was out of my lineup basically the day after I redeemed him with the BTB patch. He's still one of, if not the, best shooters in the game and has the same value as a better badged D-Wade (who admittedly is only about a 120k MT card anyway now.)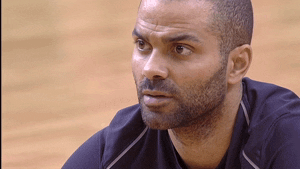 Tokens too easy to come by to even be concerned with this, the only 2K20 shambles are created by locking sets and holding cards for profit. No shambles this year redeeming tokens when you see the amount of people sitting on 3000+. I know y'all hope to redeem those for Limited Kobe/MJ/Bron equivalents but we literally haven't even gotten 'Limited' cards this year and honestly I had all 3 from the Token Market last year and they were not making anyone's endgame starting lineup with Shaq/Giannis at PG and the likes of AK/KP/etc. at SG/SF.
Diamond Chauncey is better than GO TP9.
One is marginally better at inside scoring, both have essentially the same shooting, one is way stronger, and one has not-marginally better defense.
4 HoF Badges difference.
One is a GO Token Reward, one is less than 5k mt.
Chauncey >>>>>
Technically that GO reward was free tho? I didn't pay for him, just grinded TTO. TP better animations though, which is >>> in 2K.
Same shooting, 35 less strength and worse defense, but 1,000x times the grind.