Draftees coming to MyTeam plus other cards.
First one:
I am guessing end game LaMelo in coming.
Hopefully we get a DM Banchero for my Duke squad. I know Chet is gonna be a beast too
When I saw that this is gonna include Kispert, my reaction was that there's gotta be a Kuminga. Maybe a Moody?
And…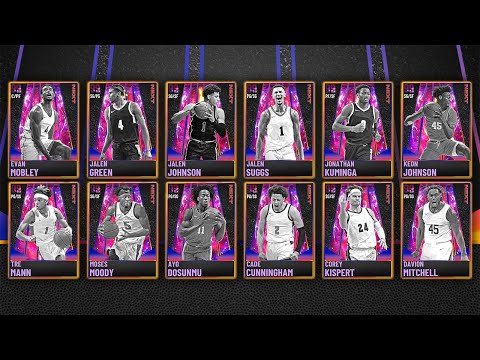 Those are last year's Next packs
I'm so mixed up. I think I get it now. NEXT Packs will have players who will be in the upcoming draft. And 2K will sprinkle in some Invincibles for standout members of the 2021-2022 NBA Rookie class. Right?
Yep, haha. Like this ridiculous card coming tomorrow:
Well… looks like we're going to get Bol family and Tacko end game cards…
Why on earth 2k doing that crap…
Looks like my end game Magic just irreparably tanked in price too, haha
I mean it is what it is at this point. Myteam been going this direction more severely for years. I just go play my league or PNO if I want an actual basketball fix. I've learned to accept that myteam is purely arcade alternate universe type shit, haha
Yeah, that's true as well. But still - there are so much good players who actually did play or still playing basketball and deserves much better cards than some random dudes… for sure skipping this one - unless somehow get him from few mt packs
Like the MVP Jokic, it's baffling
If Chet Holmgren has 99 strength, I might have to reassess my life
They're all DM's. Some of these cards are absurd.
All these cards are absurd. None of these dudes have ever stepped on an NBA court, and they're all better cards than the current reigning MVP of the league is.
Was really looking forward to adding whoever Portland drafta to my blazer squad but I guess I can't if we take Shaedon Sharpe… Surprised he doesn't have a card.
This is an insane drop. Now that lots of people locked for Wilt (myself included)—they are intent on making those set cards obsolete so that people buy VC and packs to get the new, shiny cards.
Somewhat predictable…
Cade and Mobley only 45 hof badges??
That seems like a mistake they made when copying and pasting the other cards in the set.