Trae Young had 25 at the half in Game 1 of the ECF, and it has me thinking: Who amongst active players would be most likely to beat MJ's 35 year old record of 63 points in a single playoffs game?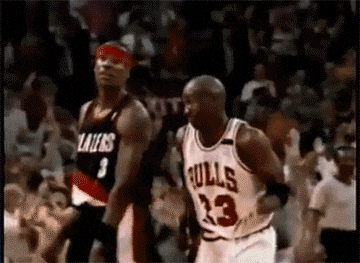 Here's a list of top scorers and their 2020-21 scoring averages
Stephen Curry (32.0)
Bradley Beal (31.3)
Damian Lillard (28.8)
Joel Embiid (28.5)
Giannis Antetokounmpo (28.1)
Luka Doncic (27.7)
Zach Lavine (27.4)
Zion Williamson (27.0)
Kyrie Irving (26.9)
Kevin Durant (26.9)
Jason Tatum (26.4)
Donovan Mitchell (26.4)
Nikola Jokic (26.4)
Devin Booker (25.6)
Trae Young (25.3)
De'Aaron Fox (25.2)
LeBron James (25.0)
Kawhi Leonard (24.8)
James Harden (24.6)
Klay Thompson (DNP)
I think Lillard would be the most likely, personally, though I don't think anybody is breaking the record any time soon. What do you guys think?